Coronavirus Signage
Professional, engaging, and customer supporting signs, graphics, and displays are very important to your company or organization, and can provide additional benefit as we face the impacts of Covid-19. Whether reinforcing instinctive wayfinding or inspiring your team, your sign and graphic blend promote profitable and safe business operations.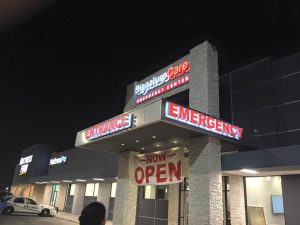 Picking out the most effective, informative coronavirus signage can be a challenge. Several factors need to need consideration, like your customer and staff support objectives and goals, how customers navigate and interact with your commercial space, legal requirements, and even your commercial signage placement all impact the number and type of signs and graphics you select for your business.
Your local commercial signage experts, Axe Signs & Wayfinding understands how impactful signage can be used to manage the flow of traffic through a business, support or protect your personnel, and make sure your brand gets remembered. By manufacturing high-quality and attractive sign and graphic components that are crafted specifically for your business, location, and requirements, our experts can support you in lifting your company to new heights.
Call Axe Signs & Wayfinding at (216) 545-5304 for your Free Consultation!
Wayfinding & Safety Hospital Signs
When facing a national health emergency situation like Covid-19, it's imperative that new patients and doctors, nurses, and other healthcare staff are aware of how to best navigate your hospital. Precise navigational assistance, valuable information, and safety warnings will need to be displayed prior to a patient ever walking into the medical facility. This is the reason hospital signage and wayfinders are extremely important. Beneficial signage can support faster and more streamlined patient service, function as an important reminder to abide by safer hygiene habits, and minimize the chance of spreading infection by lowering in-person interactions.
Distinctly indicate correct parking sections and supply incoming patients and guests with informative support through implementation of useful hospital signs and wayfinders by Axe Signs & Wayfinding. To build your sign visibility at all hours, we also offer eye-catching reflective signs and graphics. Interior hospital signage can be as straight forward as increased hand washing signs, reminders of safety procedures and practices, and additional directional sign and graphic elements to reduce human support.
Whether you need to provide easy parking and drop-off support or help keep returning patients that require care for health requirements other than coronavirus remain infection free, impactful signage elements will help diminish concerns for you, your reliable team of healthcare providers, and your patients.
Assisted Living & Nursing Home Signage
When nursing homes are faced with a health related emergency like the coronavirus, in particular Covid-19, it's crucial that new residents and hospital staff are aware of how to properly navigate and interact with your hospital. Eye-catching directions, instructions, and warnings will need to begin prior to a patient ever stepping inside the medical facility.
This is the reason nursing home signs and functional wayfinding signs are so essential. Result oriented signage helps more streamlined patient support, operate as an important reminder to conform to healthier hygiene practices, and cut down the danger of further spreading illness by cutting down on in-person interactions.
Supportive interior nursing home signs can can consist of more hand washing signs, reminders of enhanced safety and security practices and procedures, and increased navigational sign elements in order to minimize person to person communication. Supportive signage elements can help with minimizing health risks for you, your loyal team of health providers, and your new and returning patients.
Business Update Signage
Are you expecting modifications to your business hours or your business processes in solution for decreasing the spread of the coronavirus? Well-crafted, impactful signs and graphics can help your customers understand what to do to do business with you while dealing with the restrictions we are all dealing with.
You may decide to route your patrons to your drive-thru or pick-up location, deliver details with regards to changes in your hours of operation, or display alternative contact or phone numbers your clients can use to reach out to you when your business location is not accessible by walk-in traffic, Axe Signs & Wayfinding fabricates supportive business signs, graphics, and banners to assist your business.
Our specialists provide you with restricted exposure new signage solutions, which gives us the ability to fabricate and deliver your needed signage components, including installation on-site, without ever requiring in-person contact with you or your team. Since things are evolving rapidly in reaction to Covid-19, we are providing extremely fast turn-around on basic supportive signs and graphics, and once we have you set up as a client, our team can print updated, replacement signage with little more than an email or a quick phone conversation to submit your revisions.
Every Sign Your Business Needs!
You can trust Axe Signs & Wayfinding to produce professional, impactful wayfinding, hospital, and safety signage. If you desire temporary sign and graphic elements to keep customers aware of your business changes in response to the coronavirus, or are using this moment of quiet upgrade your facility signage while customer flow is limited, Axe Signs & Wayfinding supplies attractive business sign, graphic, and banner products to assist your business.
From floor signs to indoor banners, our professionals fully grasp the specific preferences of assorted business types. Our specialists keep in mind your facilities and space, organizational objectives, and brand personality and guidelines in order to generate the correct combination of signage elements for your business needs.
If you desire just a single graphic or an entire assortment of commercial signage, Axe Signs & Wayfinding will coordinate the whole project.
Our commercial sign services include:
Free Expert Sign Consultation
Axe Signs & Wayfinding is dedicated to assisting you during this difficult phase. Our reliable, experienced team is completely ready to conceptualize and build all of the commercial signs necessary to assist with wayfinding, product promotion, customer service, or brand reinforcement.
Call Axe Signs & Wayfinding at (216) 545-5304 for your Free Consultation with a Signage Specialist!